Office Address

Taubman-268
Mailing Address

John F. Kennedy School of Government
Mailbox 113
79 JFK Street
Cambridge, MA 02138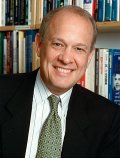 Profile
Alex Jones is Director of the Shorenstein Center on Media, Politics and Public Policy and Laurence M. Lombard Lecturer in the Press and Public Policy. He covered the press for TheNew York Times from 1983 to 1992 and was awarded the Pulitzer Prize in 1987. His most recent book, Losing the News: The Future of the News that Feeds Democracy was published in August 2009. The New York Times Sunday Book Review called Jones a bringer of light in the encircling doom. In 1991, he coauthored (with Susan E. Tifft) The Patriarch: The Rise and Fall of the Bingham Dynasty, which Business Week magazine selected as one of the best business books of the year. In 1992, he left the Times to work on The Trust: The Private and Powerful Family Behind the New York Times (also coauthored with Tifft), which was a finalist for the National Book Critics Circle award in biography. He has been a Nieman Fellow at Harvard, a host of National Public Radio's On the Media, and host and Executive Editor of PBS's Media Matters. In 2011, he was awarded the DeWitt Carter Reddick Award by the University of Texas for career achievement and was elected to the American Academy of Arts and Sciences. He is on the boards of the Committee of Concerned Journalists, International Center for Journalists, Foundation of the Society of Professional Journalists, Harvard Magazine, Nieman Foundation, Black Mountain Institute, the Institute for Politics, Democracy & the Internet, and other professional organizations.
Media Expertise
Alex Jones welcomes media inquiries on the following subjects:
Additional experts may be found by clicking on each subject listed. You may contact faculty directly or if you need assistance contact the Communications Office at 617-495-1115.