Office Address

Taubman-130
Mailing Address

John F. Kennedy School of Government
Mailbox 124
79 JFK Street
Cambridge, MA 02138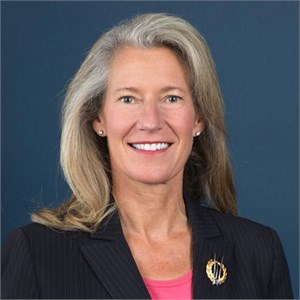 Profile
Dana H. Born, Lecturer in Public Policy, is a retired brigadier general with 30 years of service in the U.S. Air Force. Prior to coming to Harvard, from 2004-2013, she served two terms as the President appointed dean of the faculty for the U.S. Air Force Academy where she was also a professor and head of the Behavioral Sciences and Leadership Department. Dana also served as Assistant Director for Recruiting Research and Analysis in the Office of Assistant Secretary of Defense for Force Management Policy, aide to the Secretary of the Air Force and Deputy Chief of the Personnel Issues Team in the Office of the Deputy Chief of Staff for Personnel. She commanded the 11th Mission Support Squadron at Bolling Air Force Base in Washington, D.C., was an Exchange Officer with the Royal Australian Air Force, and served in Afghanistan in support of Operation Enduring Freedom. A 1983 graduate with distinction of the U.S. Air Force Academy, Dana holds two master's degrees (Trinity University and University of Melbourne) and a doctorate in industrial and organizational psychology from Penn State University. She has received a large number of awards, including the Secretary of the Air Force Eugene M. Zuckert Award for Outstanding Management Achievement, an honorary doctorate from Simmons College in 2007, the Air Force Distinguished Service Medal, the Legion of Merit and the Defense Meritorious Service Medal.  Dana also is a Senior Consultant for the Authentic Leadership Institute (ALI), member of the International Women's Forum; Peer Evaluator for the Higher Learning Commission; Trustee on the U. S. Air Force Academy Falcon Foundation; is an Advisory Board Member on "A Child's Guide to War" documentary, and, is a Director on the Board of the Apollo Education Group and serves on the Compensation and Audit Committees.
Courses
Spring
Year
Research
For a complete list of faculty citations from 2001 - present, please visit the HKS Faculty Research Connection.
Selected Publication Citations:
Academic Journal/Scholarly Articles

Hendrix, William H, Dana Born, and Scott Hopkins. "Relationship of Transformational Leadership and Character with Five Organizational Outcomes." Journal of Character and Leadership Integration 3.1 (May 2015): 54-71.