Office Address

Rubenstein-318
Mailing Address

John F. Kennedy School of Government
Mailbox 46
79 JFK Street
Cambridge, MA 02138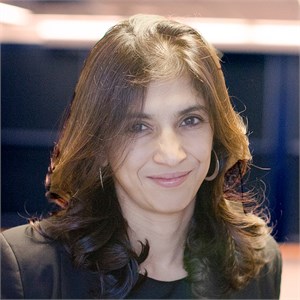 Profile
Rohini Pande is an economist and the Mohammed Kamal Professor of Public Policy at Harvard Kennedy School. She co-directs the Evidence for Policy Design (EPoD) Initiative (@EPoDHarvard).
Her research examines the economic costs and benefits of informal and formal institutions and the role of public policy in affecting change.  Her work in India has examined how institutions – ranging from electoral to financial – can be designed to empower historically disadvantaged groups; how low-cost improvements in information collection and dissemination can enable flexible regulation and more efficient outcomes in areas as diverse as environmental protection and elections; and how biased social norms, unless challenged by public policy, can worsen individual well-being and reduce economic efficiency.
Recently, Pande has turned her attention to the gulf that often exists between the design of public programs and their successful implementation. She is testing ways that training, transparency, data visualization, and strategically placed incentives can change the behavior of those charged with delivering public policies and improve implementation.
At Harvard Kennedy School, Pande is also the Area Chair for International Development. Her other current affiliations include Executive Committee member of the Bureau for Research on Economic Development (BREAD), co-chair of the Political Economy and Government Group at Jameel Poverty Action Lab (J-PAL), board member at Institute for Financial Management and Research (IFMR), and Research Associate at the National Bureau of Economic Research (NBER). Her publications have appeared in the top economics and policy journals.
Pande received a PhD in economics from London School of Economics, a Master's from Oxford University and BA in Economics from Delhi University.
Rohini Pande also serves as the faculty co-chair of a week-long executive education program, "Rethinking Financial Inclusion: Smart Design for Policy and Practice," aimed primarily at professionals involved in the design and regulation of financial products and services for low-income populations.
Courses
Fall
Spring
Media Expertise
Rohini Pande welcomes media inquiries on the following subjects:
Additional experts may be found by clicking on each subject listed. You may contact faculty directly or if you need assistance contact the Communications Office at 617-495-1115.
Research
For a complete list of faculty citations from 2001 - present, please visit the HKS Faculty Research Connection.
Selected Publication Citations:
HKS Faculty Research Working Paper Series

Barnhardt, Sharon, Erica Field, and Rohini Pande. "Moving to Opportunity or Isolation? Network Effects of a Randomized Housing Lottery in Urban India." HKS Faculty Research Working Paper Series RWP15-043, August 2015.
Field, Erica, Seema Jayachandran, Rohini Pande, and Natalia Rigol. "Friendship at Work: Can Peer Effects Catalyze Female Entrepreneurship?" HKS Faculty Research Working Paper Series RWP15-019, April 2015.
Jayachandran, Seema, and Rohini Pande. "Why Are Indian Children So Short?" HKS Faculty Research Working Paper Series RWP15-016, April 2015.