Office Address

Littauer-356
Mailing Address

John F. Kennedy School of Government
Mailbox 53
79 JFK Street
Cambridge, MA 02138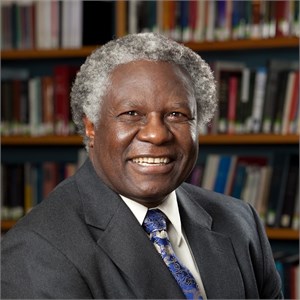 Profile
Calestous Juma is Professor of the Practice of International Development and Director of the Science, Technology, and Globalization Project at the Belfer Center for Science and International Affairs and Faculty Chair of the Mason Fellows Program. He also directs the Center's Agricultural Innovation Policy in Africa Project and Health Innovation Policy in Africa projects funded by the Bill and Melinda Gates Foundation. He serves as Faculty Chair of the Edward S. Mason Fellows Program as well as Faculty Chair of the "Innovation for Economic Development" and "Technology, Innovation and Entrepreneurship in Africa" executive programs. Juma is a former Executive Secretary of the UN Convention on Biological Diversity and Founding Director of the African Centre for Technology Studies in Nairobi. He co-chaired the African Union's High-Level Panel on Science, Technology and Innovation and was on the jury member of the Queen Elizabeth Prize for Engineering. He has been elected to several scientific academies including the Royal Society of London, the US National Academy of Sciences, the World Academy of Sciences, the UK Royal Academy of Engineering and the African Academy of Sciences. He has won several international awards for his work on sustainable development. He holds a doctorate in science and technology policy studies and has written widely on science, technology, and environment. Juma serves on the boards of several international bodies including the Aga Khan University and the Pan-African University. He is editor of the International Journal of Technology and Globalisation and theInternational Journal of Biotechnology. His next book, Innovation and Its Enemies: Why People Resist New Technologies, will be published by Oxford University Press in 2016. His current book projects cover regional integration in Africa and innovation for economic development. Follow @Calestous on Twitter
Courses
Fall
Spring
Media Expertise
Calestous Juma welcomes media inquiries on the following subjects:
Additional experts may be found by clicking on each subject listed. You may contact faculty directly or if you need assistance contact the Communications Office at 617-495-1115.
Research
For a complete list of faculty citations from 2001 - present, please visit the HKS Faculty Research Connection.
Selected Publication Citations:
Academic Journal/Scholarly Articles

Juma, Calestous. "Complexity, Innovation, and Development: Schumpeter Revisited." Journal of Policy and Complex Systems 1.1 (March 2014): 4-21.

Book Chapters

Juma, Calestous, and David Spielman. "Farmers as Entrepreneurs: Sources of Agricultural Innovation in Africa." New Directions for Smallholder Agriculture. Ed. Peter B. R. Hazell and Atiqur Rahman. Oxford University Press, March 2014.
Juma, Calestous, and Katherine Gordon. "Transgenic Crops and Food Security." Plant Biotechnology: Experience and Future Prospects. Ed. Ricroch, A., Surinder Chopra and Shelby Fleischer. Springer, 2014.
Juma, Calestous, and Pedro Conceição, and Sebastian Levine. "Biotechnology and Food Security." Handbook on Agriculture, Biotechnology and Development. Ed. Stuart J. Smyth, Peter W.B. Phillips and David Castle. Edward Elger, 2014.

Public Testimony

Juma, Calestous. "Societal Benefits of Agricultural Biotechnology: Global Status and Outlook." Subcommittee on Horticulture, Research, Biotechnology, and Foreign Agriculture of the Committee on Agriculture, U.S. House of Representatives, July 9, 2014.
Juma, Calestous. "Transgenic Crops, Food Security, and Development: Status Review and New Policy Directions for Kenya." Taskforce on Review of Matters Relating to Genetically Modified Foods and Food Security, Ministry of, April 22, 2014.
Juma, Calestous. "The Risks of the Precautionary Principle: Diplomatic Implications and Mitigation Measures." Select Committee on Science and Technology, UK House of Common, February 13, 2014.