Office Address

Littauer-327
Mailing Address

John F. Kennedy School of Government
Mailbox 54
79 JFK Street
Cambridge, MA 02138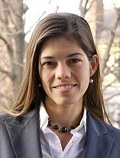 Profile
Laura Diaz Anadon is an Assistant Professor of Public Policy at the John F. Kennedy School of Government at Harvard University.  She is also the Co-Faculty Chair of the Energy Technology Innovation Policy research group and Associate Director of the Science, Technology, and Public Policy program at the Belfer Center for Science and International Affairs. Anadon's research focuses on technology innovation innovation and policy.  She focussed on innovation in energy- and environment-oriented technologies and seeks to:  identify and quantify the diverse benefits that derive from policies designed to promote it; map the complex factors including, but not limited to, policies that contribute to it; and create tools for policymakers and analysts to manage the systemic uncertainties that accompany it.
Anadon also studies the coupling between water and energy systems and its implications and the effectiveness of innovation institutions internationally.  Anadon is on the advisory board of the project on "Accelerating Energy Innovation" at the International Energy Agency and has worked as a consultant for various organizations (e.g. Climate Strategies on a World Bank project). In addition to her work on systems anaylsis in energy and technology policy, Anadon has published in chemical engineering and nuclear magnetic resonance journals, carried out process engineering research projects, at DuPont and Bayer Pharmaceuticals, collaborated extensively with Johnson Matthey Catalysts and worked as a financial consultant for banks on credit risk models for financing technology projects.
Anadon holds a Ph.D. in Chemical Engineering from the Magnetic Resonance Catalysis Group at the University of Cambridge (UK), a Master in Public Policy from the Harvard Kennedy School, and a Master in Chemical Engineering from the University of Manchester (UK). She has also studied and worked on research at the University of Stuttgart (Germany).
Research
For a complete list of faculty citations from 2001 - present, please visit the HKS Faculty Research Connection.
Selected Publication Citations:
Academic Journal/Scholarly Articles

Siddiqi, Afreen, Arani Kajenthira, and Laura Díaz Anadón. "Bridging Decision Networks for Integrated Water and Energy Planning." Energy Strategy Review 2.1 (June 2013): 46-58.
Diaz Anadon, Laura. "Missions-oriented RD&D Institutions in Energy between 2000 and 2010: A Comparative Analysis of China, the United Kingdom, and the United States." Research Policy 41.10 (December 2012): 1742-1756.
Diaz Anadon, Laura, Valentina Bosetti, Matthew Bunn, Michela Catenacci, and Audrey Lee. "Expert Judgments about RD&D and the Future of Nuclear Energy." Environmental Science & Technology 46.21 (November 2012): 11497-11504.
Qiua, Yueming, and Laura D. Anadon. "The Price of Wind Power in China During its Expansion: Technology Adoption, Learning-by-Doing, Economies of Scale, and Manufacturing Localization." Energy Economics 34.3 (May 2012): 772-785.
Siddiqi, Afreen, and Laura Diaz Anadon. "The Water-Energy Nexus in Middle East and North Africa." Energy Policy 39.6 (August 2011): 4529-4540.
Gallagher, Kellt Sims, Laura Diaz Anadon, Ruud Kempener, and Charlie Wilson. "Trends in Global Energy-Technology Innovation." WIREs Climate Change 2.3 (May/June 2011): 372-396.

Research Papers/Reports

Anadon, Laura Diaz, Matthew Bunn, Gabriel Chan, Melissa Chan, Ruud Kempener, Charles Jones, Audrey Lee, Nathaniel Logar, and, Venkatesh Narayanamurti. "Transforming U.S. Energy Innovation." Belfer Center for Science and International Affairs, November 2011.
Narayanamurti, Venkatesh, Laura D. Anadon, and Ambuj D. Sagar. "Institutions for Energy Innovation: A Transformational Challenge." Energy Technology Innovation Policy Research Group, Belfer Center for Science & International Affairs, Harvard Kennedy School, September 2009.