Office Address

Rubenstein-338
Mailing Address

John F. Kennedy School of Government
Mailbox 46
79 JFK Street
Cambridge, MA 02138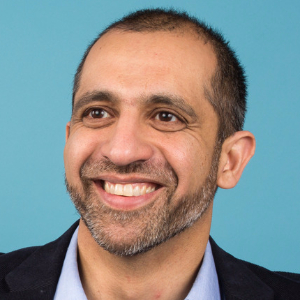 Profile
Asim Ijaz Khwaja is the Sumitomo-Foundation for Advanced Studies on International Development Professor of International Finance and Development at the Harvard Kennedy School, and Co-Director of Evidence for Policy Design (EPoD). His areas of interest include economic development, finance, education, political economy, institutions, and contract theory/mechanism design. His research combines extensive fieldwork, rigorous empirical analysis, and microeconomic theory to answer questions that are motivated by and engage with policy. It has been published in the leading economics journals, such as the American Economic Review, and the Quarterly Journal of Economics, and has received coverage in numerous media outlets such as the Economist, NY Times, Washington Post, International Herald Tribune, Al-Jazeera, BBC, and CNN. His recent work ranges from understanding market failures in emerging financial markets to examining the private education market in low-income countries. He was selected as a Carnegie Scholar in 2009 to pursue research on how religious institutions impact individual beliefs. Khwaja received BS degrees in economics and in mathematics with computer science from MIT and a PhD in economics from Harvard. A Pakistani, UK, and US citizen, he was born in London, U.K., lived for eight years in Kano, Nigeria, the next eight in Lahore, Pakistan, and the last eighteen years in Cambridge, Massachusetts. He continues to enjoy interacting with people around the globe.
 Asim Khwaja also serves as the faculty co-chair of a week-long executive education program, "Rethinking Financial Inclusion: Smart Design for Policy and Practice," aimed primarily at professionals involved in the design and regulation of financial products and services for low-income populations.
Courses
Spring
Media Expertise
Asim Khwaja welcomes media inquiries on the following subjects:
Additional experts may be found by clicking on each subject listed. You may contact faculty directly or if you need assistance contact the Communications Office at 617-495-1115.
Research
For a complete list of faculty citations from 2001 - present, please visit the HKS Faculty Research Connection.
Selected Publication Citations:
Academic Journal/Scholarly Articles

Iyer, Rajkamal, Asim Ijaz Khwaja, Erzo F. P. Luttmer, and Kelly Shue. "Screening Peers Softly: Inferring the Quality of Small Borrowers." Management Science 62.6 (June 2016): 1554–1577.
Khan, Adnan Q., Asim Ijaz Khwaja, and Benjamin Olken. "Tax Farming Redux: Experimental Evidence on Performance Pay for Tax Collectors." Quarterly Journal of Economics 131.1 (February 2016).

HKS Faculty Research Working Paper Series

Adnan Q. Khan, Asim Ijaz Khwaja, and Benjamin A. Olken. "Making Moves Matter: Experimental Evidence on Incentivizing Bureaucrats through Performance-Based Transfers." HKS Faculty Research Working Paper Series RWP17-006, November 2016.