Office Address

Brattle - Suite 550-557
Mailing Address

John F. Kennedy School of Government
Mailbox 32
79 JFK Street
Cambridge, MA 02138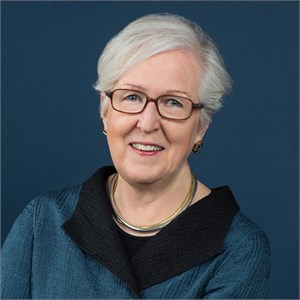 Profile
Martha Chen is a Lecturer in Public Policy at the Harvard Kennedy School, an Affiliated Professor at the Harvard Graduate School of Design, and International Coordinator of the global research-policy-action network Women in Informal Employment: Globalizing and Organizing (WIEGO). An experienced development practitioner and scholar, her areas of specialization are employment, gender, and poverty with a focus on the working poor in the informal economy. Before joining Harvard in 1987, she had two decades of resident experience in Bangladesh working with BRAC (now the world's largest non-governmental organization) and in India, where she served as field representative of Oxfam America for India and Bangladesh. Marty received a PhD in South Asia Regional Studies from the University of Pennsylvania. She is the author and editor of numerous books including Bridging Perspectives:  Labour, Informal Employment, and Poverty (co-edited with Namrata Bali and Ravi Kanbur), The Progress of the World's Women 2005: Women, Work and Poverty (co-authored with Joann Vanek, Francie Lund, James Heintz, Renana Jhabvala and Chris Bonner), Mainstreaming Informal Employment and Gender in Poverty Reduction (co-authored with Marilyn Carr and Joann Vanek), Women and Men in the Informal Economy: A Statistical Picture (co-authored with Joann Vanek and others) and Perpetual Mourning: Widowhood in Rural India. Dr. Chen was awarded a high civilian award, the Padma Shri, by the Government of India in April 2011; and a Friends of Bangladesh Liberation War award by the Government of Bangladesh in December 2012. At Harvard's annual India Conference on February 6, 2016, Marty was the chair of a panel entitled "Empowering Women at the Bottom of the Pyramid: To Overcome Gender Inequality and Poverty in India."
Courses
Fall
Media Expertise
Martha Chen welcomes media inquiries on the following subjects:
Additional experts may be found by clicking on each subject listed. You may contact faculty directly or if you need assistance contact the Communications Office at 617-495-1115.
Research
For a complete list of faculty citations from 2001 - present, please visit the HKS Faculty Research Connection.
Selected Publication Citations:
Academic Journal/Scholarly Articles

Chen, Martha. "Informality and Social Protection: Theories and Realities." IDS Bulletin 39.2 (May 2008): 18-27.
Chen, Martha, Sally Roever, and Caroline Skinner. "Editorial: Urban livelihoods: reframing theory and policy." Environment and Urbanization 28.2 (September 2016): 1-12.

Book Chapters

Chen, Martha, and Caroline Skinner. "The Urban Informal Economy: Enhanced Knowledge, Appropriate Policies and Effective Organization." The Routledge Handbook on Cities of the Global South. Ed. Susan Parnell, and Sophie Oldfield. Routledge, 2014.

Books

Chen, Martha and G. Raveendran. Urban India 2011: Evidence. Indian Institute for Human Settlements, 2011.

Magazine and Newspaper Articles

Chen, Martha. "First Take: Waste -- Global Challenge, Latin American Lessons." ReVista: The Harvard Review of Latin America. Winter 2015.
Fernández, Lucía, and Martha Chen. "Recycling Livelihoods: A Global Network Supports Waste Pickers in Latin America." ReVista: Harvard Review of Latin America. Winter 2015.