Office Address

Taubman-242
Mailing Address

John F. Kennedy School of Government
Mailbox 113
79 JFK Street
Cambridge, MA 02138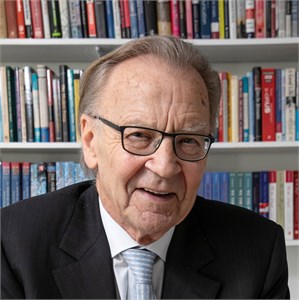 Profile
Thomas E. Patterson is Bradlee Professor of Government and the Press. He is author of the book Informing the News: The Need for Knowledge-Based Journalism, published in October 2013. His earlier book, The Vanishing Voter, looks at the causes and consequences of electoral participation, and his book on the media's political role, Out of Order, received the American Political Science Association's Graber Award as the best book of the decade in political communication. His first book, The Unseeing Eye, was named by the American Association for Public Opinion Research as one of the 50 most influential books on public opinion in the past half century. He is also the author of Mass Media Election: How Americans Choose Their President (1980), and two general American government texts: The American Democracy and We the People. His articles have appeared in Political Communication, Journal of Communication, and other academic journals, as well as in the popular press. His research has been funded by the Ford, Markle, Smith-Richardson, Pew, Knight, Carnegie, and National Science foundations. Patterson received his PhD from the University of Minnesota in 1971.
Courses
Spring
Media Expertise
Thomas Patterson welcomes media inquiries on the following subjects:
Additional experts may be found by clicking on each subject listed. You may contact faculty directly or if you need assistance contact the Communications Office at 617-495-1115.
Research
For a complete list of faculty citations from 2001 - present, please visit the HKS Faculty Research Connection.
Selected Publication Citations:
HKS Faculty Research Working Paper Series

Patterson, Thomas E. "Pre-Primary News Coverage of the 2016 Presidential Race: Trump's Rise, Sanders' Emergence, Clinton's Struggle." HKS Faculty Research Working Paper Series RWP16-023, June 2016.

Reviews

Patterson, Thomas E. "In-Your-Face Politics: The Consequences of Uncivil Media." Review of In-Your-Face Politics: The Consequences of Uncivil Media, by Diana C. Mutz. Journal of Communication, 66.2, April 2016: 19-21.