Office Address

Non Resident
Mailing Address

John F. Kennedy School of Government
79 JFK Street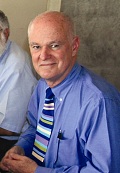 Profile
Charlie Clements is an Adjunct Lecturer in Public Policy, and also a faculty member of the Harvard Humanitarian Initiative. Before coming to the Carr Center Dr. Clements career in NGOs focused on advocacy, human rights, and humanitarian assistance.
A full decade of Charlie's life was devoted to the civil war in El Salvador, which he worked in the midst of as a physician from 1982 to 1983. Witness to War, his account of that experience, was published by Bantam in 1984. In that era he co-founded and led the Salvadoran Medical Relief Fund and as well as a Political Action Committee called Pax Americas. He led a number of Congressional fact-finding missions to Central America during the 1980s and was a special guest at the signing of the Peace Accords that ended the war in 1992.
He was also one of the founding board members of Physicians for Human Rights (PHR), which he represented at both the treaty signing and the Nobel Prize ceremonies for the International Campaign to Ban Landmines in 1997.
Charlie spent much of the next decade in a corridor along the Rio Grande River from Brownsville, TX to Hatch, NM assisting low income communities without running water or sewer to construct such badly needed infrastructure.
Following an emergency human rights mission to Iraq only weeks before the current war began, Charlie returned to full-time human rights work as President and CEO of Cambridge-based UUSC, where he served until accepting the position of Executive Director at the Carr Center in 2010.
Charlie has a BSc from the US Air Force Academy, an MSc in Operations Research from UCLA, and an M.D./M.P.H. from the University of Washington School of Medicine and Public Health.